Home
AnthonysOnlineMall.com was designed with You, the customer in mind!  I like having the 'Latest and Newly Released' items on my website first, before the rest of the competition, as a result this ensures the customers find what they are in search of.  Mobile technology like smartphones and tablets make the ability to find items on your shopping list easy on the go.  Much more easier than seeing something that you like, driving to the local retail vendor, push through the crowd of people that are wanting to buy the same thing you are, only to find out the said item is sold out or the service line is a forever long. Not to mention the other hurdles you may have to encounter on your way to said retail vendor.
I like Amazon because I like having the freedom of buying my items online and receiving them in the mail a few days later. Which in turn makes for having more time to do things I really enjoy doing. Here at AnthonysOnlineMall.com, You will find the Best-Selling smartphones, tablets and Kindles in a few quick motions of your fingers.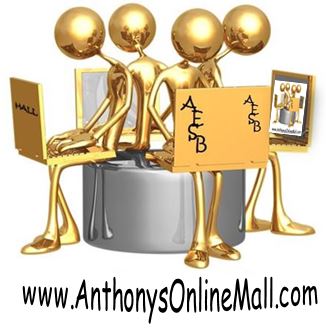 The intention of this website is to aide You in Learning More about the items you are interested in purchasing. When you improve your knowledge base about an item, you feel more confident with your purchase. You're a smart person! I am positive that with the right tools to do your research about the Hot Items you want, you will feel ultimately satisfied with which ever purchase you choose. Further more, I challenge you to let others know how my site helped you and how it can help them find everything they need to know about items on their shopping list also! Technology is ever growing. There are many items out there that people are interested in buying. With a little due diligence and time, it's fairly easy to research whether a specific item is the right match for them. In some cases, people purchase an item, without being completely sure the item is the perfect match for their requirements. The customer then winds up selling said item without knowing everything they needed to know, to make the correct purchasing decision. I want you to feel 100% confident about your purchase! In order for you to know what others have said, I have included various reviews, as well as some of my own of products I own.
In closing, Should you ever find that you want to know more information about a specific item that is not listed, feel free to navigate to the 'Contact Me' tab and leave your contact information, the best time for me to reach out to you with answers to any questions you may have.  It is my goal to always provide access to numerous items people are in search of, with the lowest possible list price!  Like I learned growing up, if you are going to buy something, ensure you are paying the best price for possible for the perfect item that checks every box you have for requirements.

Thank you for visiting AnthonysOnlineMall.com and I look forward to your continuing business!
Anthony "Tank" Hall
Owner & Consultant