Amazon Fire Phone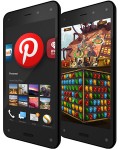 This item will be released on July 25, 2014
Want to receive this the day it comes out?
Pre-Order with FREE Two-Day Shipping at checkout.
Eligible for FREE Shipping on orders over $35. Details
Amazon Fire Phone cNet Review on Youtube
Amazon's First Ever Smartphone, Fire Phone, has tons of cool and unique features:
Dynamic Perspective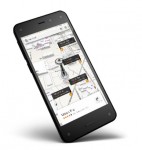 – Experience interactions impossible on other smartphones. Tilt, auto-scroll, swivel, and peek to navigate menus and access shortcuts with one hand. Dive into a new class of immersive apps and games, peek to show Yelp ratings in Maps, or take a character's viewpoint to see around corners or obstacles in games.
Firefly technology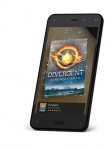 – Firefly lets you instantly discover helpful information on over 100 million movies, songs, and products. Simply press and hold the Firefly Button on the side of Fire Phone to quickly capture and launch Web addresses, send emails, or make phone calls without typing addresses or phone numbers.
Mayday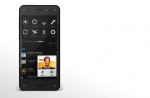 – Get live, on-device video tech support with an Amazon expert – 24 hours a day, 7 days a week, 365 days a year, at the touch of a button. Plus, Mayday is available over both 4G LTE and Wi-Fi.
Full Yr of Amazon Prime
– Plus, for a limited time, Fire includes a full year of Amazon Prime and 1,000 Amazon Coins (a $10 value) to use on apps, games, and in-app purchases. If you're already a Prime member, your membership will be extended an additional 12 months.
Advanced Camera System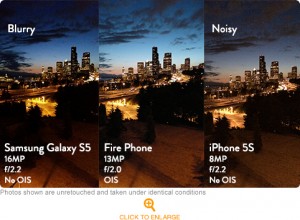 – Fire Phone has a 13 megapixel camera system installed for ease of photography on the go in any conditions. Optical Image Stabilization, stunning 1080p video, plus free unlimited photo storage in the cloud. Automatic back-up to the Cloud Drive for photos and videos. Access anytime on Fire Phone, other Amazon devices or Cloud Drive Apps. This advanced camera system in the Fire Phone automatically suggests when to turn on the HDR (High Dynamic Range). Fire phone features a custom-tuned 13 megapixel camera system, with a fast five-element wide aperture f/2.0 lens for crisp, beautiful images.
Android Apps & Tools
– Fire phone comes loaded with a suite of built-in tools and Android apps, with all the apps you want from the Amazon Appstore.
Apps & Games
– Find a wide variety of Apps and games that use Dynamic Perspective and Firefly.
Home Carousel
– In carousel mode, you can scroll, scan, and take action without opening the app or leaving the carousel. Scan and delete emails, see your next appointment, find recent photos, access most visited web sites, and more, right from your home screen carousel.
Powerful Performance
– Ultra-fast launch and load times with a 2.2 GHz quad-core Snapdragon 800 processor, combined with 2GB of RAM. Fire phone features nine bands of 4G-LTE, four bands of GSM, five bands of UMTS for better voice coverage, faster data speeds, and international roaming, plus 802.11ac support, Wi-Fi channel bonding, NFC and Bluetooth support.
Exceptional Audio
– With Dolby Digital Plus, Your music in the cloud and Tangle-Free Premium Headsets, anyone can be ready for just about any adventure that awaits you. Dolby Digital Plus auto-adjusts volume, creates virtual surround sound, and delivers easier-to-understand dialogue in movies and TV shows. The premium headset is ergonomically designed and technically tuned for amazing sound and Music you buy from Amazon is instantly available on all your devices.
Fire OS 3.5
– Fire phone is powered by the latest version of Fire OS, a customized OS specifically designed for the Fire Phone, which starts with Android and adds cloud services, a content-forward user interface, built-in media libraries, productivity apps, and platform enhancements to integrate Amazon's digital content and improve performance. Review docs, presentations, and stay connected to work from wherever you are. Double tap the home button to show an overlay of all running apps so you can easily switch between them.
Customer Reviews
-Most helpful customer reviews. (No Customer Reviews until 25th July 2014)
See all customer reviews…
Technical Details
Size 5.5″ x 2.6″ x 0.35″ (139.2mm x 66.5mm x 8.9mm)
Weight 5.64 ounces (160 grams)
Processor 2.2GHz Quad-core Snapdragon 800 CPU, with Adreno 330 GPU and 2GB of RAM
Display 4.7″ HD LCD display, with 1280 x 720 resolution at 315 ppi, 590 cd/m2 brightness (typical), 1000:1 contrast ratio (typical)
Cameras 13 MP rear-facing camera, multi-frame HDR, auto focus, optical image stabilization, f/2.0 5-element wide aperture lens, LED flash & 2.1 MP front-facing camera
OS Fire OS 3.5
Storage 32 GB or 64 GB
Cloud Storage Free cloud storage for all Amazon content, and photos taken with Fire phone
Battery Battery size: 2400mAh.
Talk time: Up to 22 hours
Standby time: Up to 285 hours
Video playback: Up to 11 hours
Audio playback: Up to 65 hours
Video recording: 1080p HD video recording at 30 fps (front- and rear-facing cameras)
Audio playback: Dual stereo speakers with Dolby Digital Plus audio processing
TV and Video: Supports screen mirroring and Second Screen
Content formats supported Audio: Dolby Digital (AC-3), Dolby Digital Plus (E-AC-3), non-DRM AAC, MP3, MIDI, OGG, PCM/WAVE, AAC LC/ELD, HE-AAC (v1 & v2), AMR-NB, AMR-WB, AMR-WB+, Audible Enhanced format (AAX); Video: MPEG4, VP8, H.264/MPEG4/AVC,MPEG4 SP, H.263,AVI,HDCP2.x, PlayReady DRM; Images: JPG, GIF, PNG, BMP, GIF87a,GIF89a; Viewable docs: PDF, unprotected MOBI, PRC natively, DOC, DOCX, Kindle (AZW), KF8, TXT
Sensors Dynamic Perspective sensor system with invisible infrared illumination, gyroscope, accelerometer, magnetometer, barometer, proximity sensor, ambient light sensor
Location: GPS, Assisted GPS, GLONASS, Wi-Fi/Cellular location, and Digital compass
Cellular: UMTS/HSPA+/DC-HSDPA (850, 900, 1700/2100, 1900, 2100 MHz), Quad-band GSM/EDGE (850, 900, 1800, 1900 MHz), 9 bands of 4G-LTE (Bands 1, 2, 3, 4, 5, 7, 8, 17, 20), supports carrier aggregation
Connectivity: 802.11a/b/g/n/ac Wi-Fi, up to 300 Mbps with channel bonding; Bluetooth 3.0 wireless technology; NFC enabled
Headphones: Premium, tangle-free headphones with remote and mic & 3.5mm headphone
Rating for: Hearing aids M4, T4
SIM Card: Pre-installed Nano SIM card
Ports: Micro USB 2.0
Warranty and Service 1-year Limited Warranty included. Use of Fire phone is subject to these terms
Included in the Box Amazon Fire Phone with Fire OS 3.5
Premium headphones with remote and mic
Micro USB to USB charging cable
USB power adapter (5W)
Quick Start Guide